Welcome to the Turmeric World!

Turmeric is a tuberous rhizome of Curcuma longa L, a rhizomatous herbaceous
plant that belongs to the ginger family Zingiberaceae.
As a spice, it has been a staple product of almost every cuisine prepared in
India. For centuries, turmeric has been a part of Ayurveda, traditional Chinese,
and Unani medicinal practices. Turmeric has a long history of medicinal usage
and its usage as a healing medicine could be found in Ayurveda.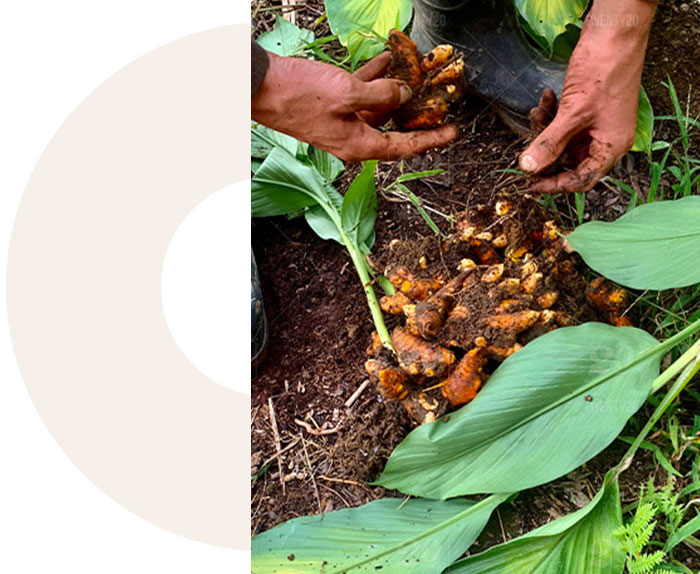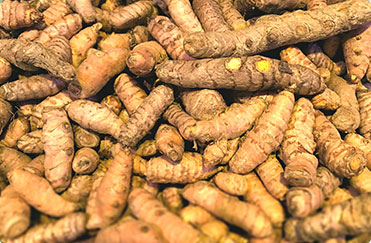 HARVEST & PROCESS
Explore Turmeric Harvest Cycle

Turmeric (Curcuma longa L) is a perennial root plant of the ginger family. Turmeric might be native to India since its mention can be seen in Ayurvedic medicine usage and also in cooking. However, it is now cultivated in the following countries – China, Myanmar, Bangladesh, Nigeria, Indonesia, Thailand, Taiwan, Central and Latin America, and some South Asian countries.
Turmeric can be grown as a mono-crop or as an intercrop. Let's discuss the turmeric cultivation process in detail.
Benefits & Uses of Turmeric

Turmeric (Curcuma longa L.), the Golden Spice of India, is known to have its origin in Southeast Asia. It has been in use for thousands of years. It has remained an important part of our food, culture, and traditional medicine.
The active chemical component of turmeric i.e. Curcuminoid is often credited for offering a high nutritional value. Hence, it offers a myriad of health benefits. Also, the yellow color of curcumin is not only used as a dye but is also used as a food color.
EVERY YEAR
Growth in Turmeric Exports

India is the largest consumer, producer, and exporter of turmeric. Other major turmeric-producing countries are Bangladesh, China, Myanmar, Nigeria, Pakistan, and more.
While the global production of turmeric is estimated to be around 11 to 11.5 lakh tonnes per annum;
Talk to us for high quality Turmeric